The story of novel revolves around a girl named Ava, a very beautiful photographer who falls in love with her brother's best friend named Alex. Their love story begins when Ava's brother, Josh goes in Central America for his medical volunteering.
TWISTED LOVE BY ANA HUANG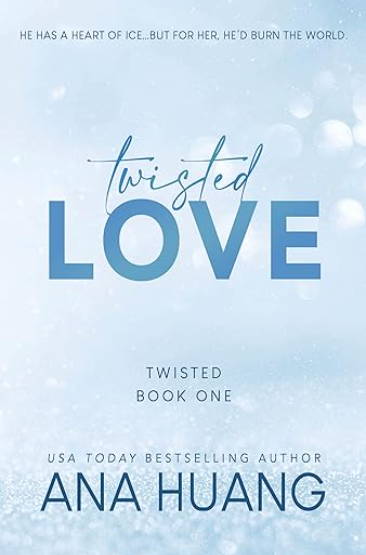 "Characters of Twisted Love"
Ava Chen : A very beautiful photographer.
Josh : A medical student and brother of Ava.
Alex : A wealthy best friend of Josh and lover of Ava.
Ivan Volkow : An uncle of Alex, who raised him since his father and mother death.
Bridgette : A beautiful princess and best friend of Ava Chen.
Summary of Twisted Love By Ana Huang
The Romance novel "Twisted Love" is written by Famous American author "Ana Huang", and it was originally published on 22 April 2021. The story of novella revolves around a character named Ava Chen, a very beautiful and talented girl who is a photographer by profession. Ava's family consists of her father and one lovely brother, Josh, a medical student who loves her very much. Ava was just 10 or 11 years old when her mother died by suicide.
One day, when Ava was returning home from her shoot in heavy rain, she calls her brother, Josh for help but as her brother was busy in partying, he sends his best friend named Alex to pick her from shoot. On his best friend request, Alex goes to picks up Ava from shoot to home.
Let's learn about the character of Alex, Alex is extremely talented and wealthy friend, who is over possessive and cold-hearted person. He is a kind of person who can do anything to get what he wants. As Ava's brother, Josh is going in central America for his medical volunteering, he requests his best friend, Alex to look after his sister till he returns home from Central America. Josh is a best friend of Alex, so he agrees to take care of his sister.
To take care of Ava, Alex shifts in her neighborhood. On the other side, we have Ava who at first does not like the appearance of Alex in her life, so she used to do lots of pranks on him with the help of her best friends. But their pranks do not work on Alex, every prank they tried on him, they failed in it to send him back to home. It is because Alex does not care about any pranks, he has no fear, no emotion, and no sympathy for anyone. He is just an emotionless person.
Synopsis of Twisted Love By Ana Huang
As the story progresses, we learn that Ava and Alex begin to like each other, they liked each other from beginning of their meetup but does not tell each other because of Josh. One day on thanksgiving night, Ava invites Alex in her home, and they sleep together through which Alex learns about the nightmares of Ava which she has almost daily at night. The reason of Ava's nightmare is her bad childhood memories, one time her mother thrown her in swimming pool despite knowing that she does not know how to swim.
Just after this incident her mother died by suicide as she was depressed and mentally unstable woman. Since then, she has a fear of water and has nightmares of it almost daily at night. Afterwards, Ava learns that it is not her mother who thrown her into swimming pool but her father. She tells everything about her father to Alex, and Alex plans to send her father in police custody.
The story now features new character Ivan Volkow, an uncle of Alex who raised him since his father and mother death. He tells Alex to give him his CEO position in his company. Alex denied his request as he has no interest in giving up his company position. Alex's uncle, Ivan ends up kidnapping all Alex's friends like Ava and her friends.
To save Ava and her friends from his uncle, Alex tells lies to his uncle like he does not love her, and he was just using her, and you can do whatever you want to with any of them. Ivan ends up releasing Ava and all her friends. The crazy part is when Alex discovers that its not strangers who killed his mother and father but his uncle, Ivan. As Alex's uncle, Ivan released Ava and her friends, he killed his uncle in anger of killing his family. When Ava learns about Alex killing his uncle, she decides to leave him and goes in London. Alex followed her through London, he convinced her anyhow and brings her back. The story of novella ends with Alex telling Ava about her friend Bridgette, who is soon going to become princess.
Recommended Reading