The contemporary romance novel "Things We Never Got Over", is written by famous American author Lucy Score and it was originally published on 12 January 2022. The story of novel revolves around main character named, Naomi, a woman who suffered throughout the novel because of her evil twin sister, Tina.
THINGS WE NEVER GOT OVER BY LUCY SCORE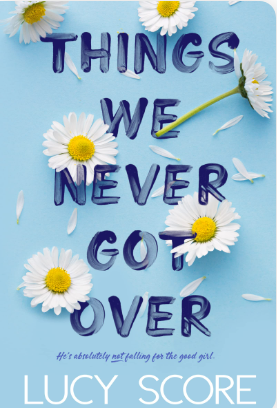 "Characters of Things We Never Got Over"
NAOMI WITT : A 30 years old woman who is major center of novel.
TINA : A twin sister of Naomi.
WAYLAY : A daughter of Tina and niece of Naomi.
KNOX MORGAN : A forty three years old super wealthy man who is attracted to Naomi.
NASH : A chief cop in small town, Knockemout and brother of Knox.
LUCIAN : A best friend of Knox.
LIZA : A Grandmother of Knox, who lives with him.
Things We Never Got Over Summary
In Things we Never Got over, we follow a character named Naomi Witt, a thirty-year-old young woman who runs away from her marriage ceremony to save her twin sister, Tina. Naomi's twin sister, Tina lives in small town, Virginia of Knockemout. Naomi goes in Knockemout to help her twin sister but as soon as she arrives there, she learns that her sister has one 11 years old daughter, Waylay.
Tina steals Naomi's car and money, leaves her daughter, Waylay in Naomi's care and runs away from Knockemout. Tina abandoned her daughter, Waylay and her sister, Naomi and runs away from Knockemout. Naomi does not know anything about Tina's daughter, Waylay, whom her sister has abandoned but still she decides to look after her.
Naomi is going through a tough phase as she is stuck in a strange place with no money and job, but one niece to look after. There comes new character named Knox Morgan, a forty-three-year-old super grumpy man who does not care about the feelings of others. He is a barber by profession and own couple of businesses in Knockemout.
Knox is kind of like an introvert person who loves to live his life alone. He has never been in relationship with anyone so far. There are only two peoples with whom Knox has grown up with, his brother, Nash, who is cop in town and his best friend, Lucian. On the other side, we have Naomi, who is super friendly woman and loves to help other people.
Naomi meets Knox in a café where her sister left her. Even though Knox is mean as hell person but throughout the novel he is just helping Naomi. He helps Naomi and her niece by giving them a free cottage to live near his house. He gave her a job with decent salary to make a living in Knockemout. The story now shift focus to Tina's daughter, Waylay, a 12-year-old girl who is matured for her age and very supportive for her aunt, Naomi. I absolutely love Waylay's interaction with her aunt, Naomi and Knox, she is not evil like her mother, Tina.
Waylay has a good sense of humor, and she is very friendly with both her aunt, Naomi and Knox. Throughout the novel Naomi is doing everything she can to make her niece, Waylay's life stable. She has taken a full responsibility of Waylay, since her twin sister, Tina left her.
As the story progresses, we learn that Naomi and Knox are falling in love with each other but none of them are interested in committed relationship. Knox is really attracted towards Naomi, he secretly wanted her in his life but still he is grumpy to her. There is only one person to whom Knox talks softly and that his Naomi's niece, Waylay. He is like a father figure for her.
The story is not over yet.
Stay Tune
RECOMMENDED READING