The Night Train at Deoli is a real life story which is inspired from author own life. The Story is about a station named Deoli, a small station which is 30 miles away from Dehra, a place where narrator's grandmother live. The writer used to spend every summer vocation at his grandmother home which is located in Dehra.
The Night Train At Deoli By Ruskin Bond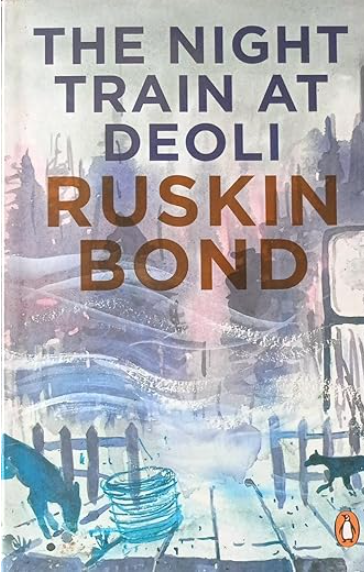 Summary of The Night Train at Deoli in English By Ruskin Bond
The novel "The Night Train at Deoli" is written by famous Anglo-Indian author Ruskin Bond and it was first published in 1988. The novel narrator is Ruskin Bond who shares his train experience throughout the book. In every summer, narrator goes at his grandmother home for a vocation and on the way to his grandmother home, comes a railway station named Deoli, a very small railway station. Her grandmother home is in Dehra which is thirty miles away from Deoli station. The strange things is when train stop at Deoli station for 10 minutes but neither no one go outside from train nor anyone comes inside of train.
Whenever narrator comes at Deoli station, he feels very strange as the station is covered with deep forest around it. As the summer comes, narrator goes at his grandmother home and as usual he goes by passing Deoli station where he saw a poor girl who is selling basket at station without wearing anything on feet in such a cold place. The narrator saw girl's hair which is shining, and a girl also have attractive eyes which narrator finds very amazing. A girl realize narrator is staring at her but she ignores it first but after a while she goes near at narrator and ask him if he wants to buy a basket made of fine wood which author denied first but end up buying it because of girl persistent effort.
Furthermore, narrator reach his grandmother home but he does not sleep through his train journey because he was still thinking about a girl who is part of his memories now. After spending two months in grandmother home, narrator come back to his home and as usual he goes by passing Deoli station where narrator saw basket girl again and feels very good and they talk for a while like they were childhood friends. A girl and narrator seem very happy throughout their conversation because they haven't forget about their last meet up which was two months ago when narrator was coming to his grandmother home. The narrator hold girl's hand in his hand and request girl to come with him in Delhi but she refused his request and told him that one day we will meet again soon. He told her that I will come back to this station soon, will you be there to meet me again?
A girl neither say yes nor no and move forward to sell her basket after saying good by to him. As the story move forward, we learn that the narrator graduation is about to complete, and he decides to meet his grandmother again, but we all know why narrator is going back to his grandmother home in Dehra because his is in love with that basket girl. The narrator leaves for Dehra and when train passes to Deoli, he stops at station to meet that girl but does not find her anywhere. He asks few locals about girl who told him that a girl has stopped coming at station.
He leaves for Dehra but still thinking about a basket girl as he is in deeply love with her looks and memories. When narrator comes back from his grandmother home, he searches for girl one more time but does not find her anywhere and in the end, he decides to move on.
The moral of the story is people come and people go and that is life but we should never mourn for them as it gives nothing but pain.  
Recommended Reading