"Regretting You" is an interesting novel tells the relationship story of mother and daughter and the outcome of their past mistakes. The story of novel focus on a relation of mother and daughter who have different personality, different thinking and it tells us things like how forgiveness can bring peace and relieve us from pain and how moving on can make a difference in life.
REGRETTING YOU BY COLLEEN HOOVER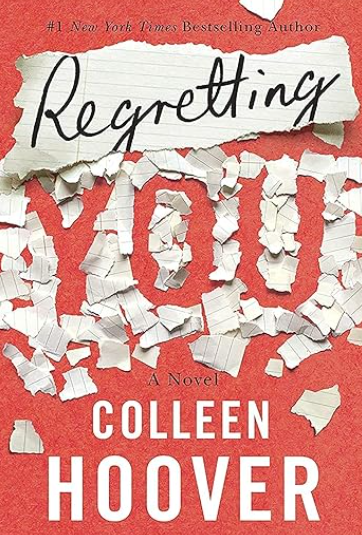 "Characters of Regretting You"
Morgan Grant – A mother of Clara who gave birth to her at a age of seventeen.
Chris Grant – A husband of Morgan and father of Clara.
Clara Grant – A sixteen years old girl who study in high school and a only daughter of Morgan and Chris.
Miller : A boy who grew up without parents and he is the person to whom Clara have crush.
Jenny – A sister of Morgan.
Jonah – A boyfriend of Jenny.
Elijah – A daughter of Jenny and Jonah.
Summary of Regretting You By Colleen Hoover
The Romance novel "Regretting You" is written by famous American author "Colleen Hoover", and it was originally published on 10 December 2019. The Story of book revolves around a mother named Morgan Grant and her daughter named Clara Grant, a 17-year-old girl who has her own life and dreams. Morgan Grant was very young, she was just 16 or 17 years old when she gave birth to her daughter Clara, with her boyfriend named Chris, who is her husband and Clara's father now.
The story now features new character named Miller Adams, a high school senior boy who grew up with no parents and he is a boy to whom Clara is attracted. But the problem is her mother Morgan does not like Miller's involvement in Clara's life as she wants her daughter to prioritize career over other things. She don't want Clara to make same mistake as she did like having a boyfriend and baby at such young age which end up distracting her from her career. The moment Clara comes in Morgan life, she has always prioritize her and her husband over her career and anything else.
The relation between Morgan and her daughter Clara is not good, both have different values, different perceptions for life and the thing is Morgan wants Clara to stay away from loving relationships as she wants her to focus on her future. On the other hand, we have Clara who love to be free and want to explore her life by her own rules. The tragedy occurred when mother and daughter's only medium Chris died in a car accident, so now they are dealing with his grief and trying to move on.
There come new characters named Jenny, a sister of Morgan, and her boyfriend named Jonah and they have one daughter named Elijah. The crazy part of novel is when Morgan finds out that her husband Chris had an affair with her sister Jenny and the real father of her daughter Elijah was Chris. As the story move forward, we learn that Clara is deeply attracting towards Miller, but she is not telling him anything, she is afraid and just keeping all her feelings in her heart waiting for the right moment.
The only relationship which is good in book is the relationship of Clara and Miller, they begin to spend time together, hanging out together and the best part is when Miller tells Clara that he has crush on her from last three years. The next day Miller and Clara was walking together in their school by holding each other's hand, Morgan comes in and saw them together, and she had a horrible argument with her daughter, Clara.
One day when Morgan was not in home, Clara invite Miller in her home, first they had a romantic talk and at the end of day, they end up having sex and sleeping together whole night. The next day when Morgan comes home, she finds out that Clara is sleeping with Miller, she had a argument with Clara. Miller ends up going home.
RECOMMENDED READING