The Shadow lines is a famous novel written by famous Indian author Amitav Ghosh and it was published on 1988. The book setting is in India, England and East Pakistan. The novel was awarded with Sahitya Academic Award and Ananda Puraskar.
THE SHADOW LINES BY AMITAV GHOSH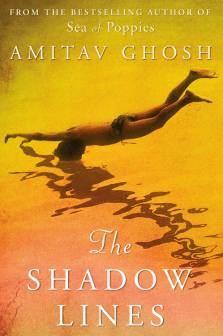 The Shadow Lines Summary
The Shadow line is a story of Indian Bengali family of three generation. The book is narrates by Unknown narrator who was born in 1953 in Calcutta. The narrator lives with his grandmother name Thamma and he never made outside Calcutta. His best friend is his uncle Tridib as his uncle tells him the story of his childhood when he was in London. The narrator loves listening his uncle London childhood stories.
The novel story starts with narrator grandmother Thamma and Tridib grandfather name Justice Chandrashekhar Dutta Chaudhari. The narrator grandmother Thamma was born in 1902 in Dhaka. Dhaka is in Bangladesh but at that time Dhaka was a part of India. When narrator grandmother was younger, her father and uncle Jethamoshai had fight which causes partition of their house.  Thamma had one younger sister name Mayadebi and they both got married together. Mayadebi married a son of Chandrasekhar Dutta name Shaheb and Thamma married someone who works in Railway track. Thamma was 32 years old when her husband dies in 1935 because of pneumonia. But despite the death of her husband, she never ask for any help from her family and started working as a teacher in School. At that time Thamma had one small kid.
Then in 1947, partition came and Dhaka become the capital of East Pakistan. After partition of India she never got a chance to go back her home in Dhaka which was in East Pakistan and his uncle still lives in Dhaka. Thamma younger sister Mayadebi's has three sons Robi, Jatin and Tridib. Her husband Shaheb's goes to London along with his 9 years old son Tridib for some medical operation which couldn't be possible in India. In London, Tridib and his father used to live in the house of Mrs. Price. Mrs Price has one daughter May and son Nick. As world War 2 starts happening in London, Tridib and his father came back to India with lots of memories of London.
The older son of Maydebi – Jatin got married to a girl name Queen Victoria. They both has one daughter name ila. The narrator and his cousin sister ila are third generation of the family. The parents of ila are rich in family and she used to travel a lot along with her parents in foreign countries.
As you know the narrator never made outside Calcutta and he is fascinated by the London stories of Tridib. Tridid used to tell narrator that world is of imagination and he also advises him to increase his imagination power on the other hand Ila does not believe in Tridib's irrelevant logic of imagination as she wants to explore the world by travelling rather than living it alone in imagination. A while later Ila and her family goes to London where she become a good friend of Mrs Price son Nick. Ila was 8 years old when she came back to India along with her family for some festival. When narrator met ila in family function he started blushing. Then Ila takes narrator to the store of house where they both played a game which Ila used to play with her friend Nick in London.
The Shadow Lines Summary : Part II
The story now jumps to a life of Tridib in 1959. In 1959, Tridib and May, daughter of Mrs Price used to write a lots of letter to each other. Later on, May informs him that she is coming India to meet him.
Now lets go to a life of Thamma. Themma get to know that her 90 years old uncle Jethumoshai is still alive in Dhaka. Due to fight between Pakistan and East Pakistan, Thamma wants to bring back his Uncle Jethumoshai in India.  Thamma's younger sister Mayadebi invites her to Dhaka. Now Thamma has a chance to go in Dhaka and bring her uncle back to India. May who is now in India decides to go with Thamma. Tridib also joins the Duo. At this time our narrator understand that there is something between May and Tridib. Three of them reached Dhaka to take her uncle from Dhaka to India. A later while riots starts happening in Dhaka but Thamma still wants to her uncle back to India anyhow. When thamma reached her uncle house in Dhaka her uncle is too old that he didn't recognize her nieces. Suddenly riots begins to happen in Dhaka and things started getting worse and her uncle dies in those riots.
The shock comes when Tridib also dies in riots. The narrator was shocked when he get to know that her uncle Tridib dies in riots of Dhaka. The narrator still have lots of memories of his uncle Tridib and unable to forget the memories of his uncle. After graduation in India, narrator goes to London where he met Nick for the first time. As the time passes narrator get to know that Ila is marrying Nick, he feels really bad. In reception of Ila and Nick marriage, narrator drinks heavily and in drunkenness he starts behaving weirdly.
After seeing all this drama May takes narrator to his home, the narrator starts abusing May and blames her for Tidib's death. In morning when narrator wakes up he feels bad for his misbehavior and ask for apologies from May. A later while when narrator was going back to India May tells him that his uncle risk his own life to save her grandmother and May. It touches the heart of narrator that how his uncle Tidib sacrificed his own life to save her grandmother and May. At the end of novel narrator get to know that Ila's husband Nick has couple of affair with other women and she is not happy with her marriage life.
#theshadowlinessummary #theshadowlines
Recommended Reading