The novel "Inheritance of loss" is written by Indian contemporary author Kiran Desai and it was originally published on 2006. The Inheritance of loss is second novel by author Kiran Desai and it is written between the years  of 1998 and 2006. The novel gives the story of a family.
The Inheritance of Loss By Kiran Desai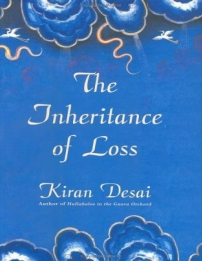 Buy on Amazon Download on Amazon Audible
Summary of The Inheritance of Loss By Kiran Desai
The novel story goes along with four main character from Northern India. The Story starts with Grandfather and Granddaughter who are sitting in their balcony. The name of grandfather is Jemubhai who is a Judge and her grand daughter name is Sai. In house grandfather has one grand daughter,one loving dog & one Cook who has one son name Biju who is living in New York. A group of few Nepali Indian boys from Gorkha National Liberation front come to judge house & robs the Judge's guns, humiliating the proud old man. After the robbery Judge sent his cook to police station, police comes to judge house & start blaming his cook for robbery.
First time when Sai came in her grandfather house she was 8 years old. Her parents died in an accident collided by Bus. After this incident she shifted in her grandfather house.
The novel now shift focus to Judge's past. He left his house at the age of 20. To work in Indian civil service he went to Cambridge University after marrying 14 years old girl name Nimi whom he abandons after brutal torture. Throughout graduation Judge's faces constant discrimination in Cambridge University. He used to spend lots of time in studying, after intense hard work, determination & perseverance he joined Indian civil services as Judge. He reunited with his wife Nimi. He treats her coldly, keeping her cloistered in their home.
When Sai came in her grandfather house 9 years ago she met her first Tutor Noni who progressed her in Science & Math so much that she cannot keep up with her anymore. So her grandfather hire 20 years old recent graduate name Gyan to teach her grand Daughter. Sai and Gyan fall in love & become involved each other despite a vast socio-economic divide.
The story now shift focus to Biju, cook's son who is living in United Stated as an illegal immigrant. It is practically impossible for Biju to get work apart from low paying restaurant jobs. It was really difficult for him to adjust in American culture. Biju longs for home, even anxious about his immigration status. After lots of Hard work Biju got a job in Bakery where he met Saeed who is also struggling like him.
Biju writes his father constantly about how good his life is in U.S.A. Biju father sends him lots of request to assist his friend migrating to US, instructing them to seek out when they arrive in US. Hardly capable of making end needs, he avoids these request like the plague. Due to bad condition in US, Biju decided to return back India. Upon arriving in India he is greeted by the sight of roads that have been closed off by rebel forces. Biju had no choice except to go along with GNFL, Instead of helping him they steal all of his saving and the gifts he bought from US for his family & even his garments and sneaker.
The novel now jump to Present where the Gorkhali begins to escalate and shake up their life. The GNFL is a group of Nepali Indian who are demanding their own land separate from India. Gyan involvement in GNFL harms his relationship with Sai whom he comes to resent for her western practice. Gyan also tells the GNFL group about the Judge's gun, inspiring the robbery that starts the book story. Sai and Gyan fight harshly due to their argument on each others culture. Gyan left GNFL and regret breaking faith with her lover, Sai.
The Police officers arrest couple of decent people for robbery in Judge's house and one of those men's friend steal the beloved dog of Judge. The judge get furious and starts beating his cook for his inability to find his loving dog. In this moment someone knock the door, when cook goes and open the door, he saw his loving son, Biju. They both hug each other and story ends with Biju meeting his father.
Recommended Reading