Sri Neem Karoli Baba Maharaj appeared to be an ordinary human, but he was actually divinity incarnate. He inspired people in unseen, intangible ways. No one could predict the behaviour of Neem Karoli Baba.
The Divine Reality of Neem Karori Baba By Ravi Prakash " Rajida"
Book : The Divine Reality of Neem Karori Bab By Ravi Prakash
Neem Karoli Baba
Sri Neem Karoli Baba Maharaj was born in a well to do Brahmin family from the village of Akbarpur in District Agra and was Known by the name Laxmi Narain. He exhibited spiritual powers from birth, and though he did not show an inclination for study as a child, he seemed to know everything. One night he told his family that there would be burglars in the house. Taking it be a child's imagination, no one heeded his warning, but words turned out to be true. Burglars broke into the house the same night.
Sri Neem Karoli Baba was the very embodiment of grace and compassion. He showered affection, fed people, and made them laugh. He loved everyone without discrimination and could not bear to see anyone in distress.
Neem Karoli Baba Miracles
Kainchi Dham Neem Karoli Baba Ashram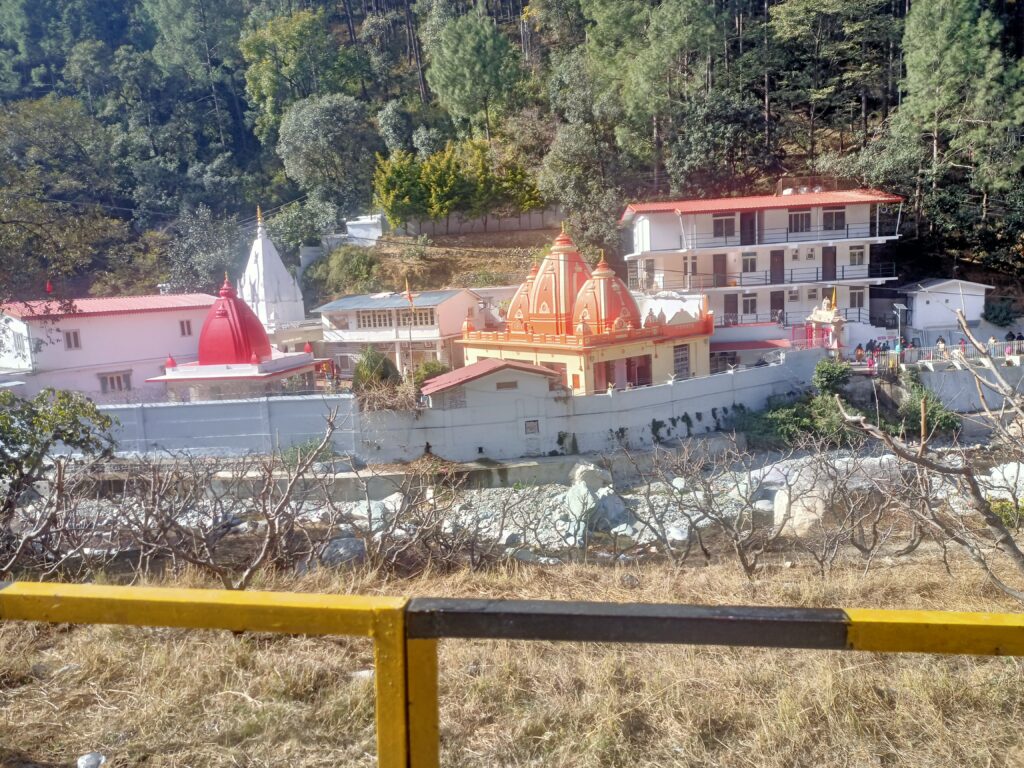 The Gift of Life to a Widow's Son
On one occasion Neem Karoli Baba was travelling to Hanumangarh, Nainital, with some devotees. Quite a distance before Haldwani, he asked his driver, Ramanand, to drive faster and faster, at a lonely place between Kathgodam and Jeolikot, Baba ordered the driver to stop the car and he got out. In the forest nearby a woman was weeping over the body of her son. He had died sometime before from a snakebite. Even though Baba knew all, he asked the woman why she was weeping. Then he said, " Was this your only son ? She nodded. Baba said, " Your husband is not alive ? She began to cry. Then Baba Said, " Your son is not dead. Why are you weeping ? Keep quiet. " Baba rubbed the boy's body with his hand and life returned to him. After a while the boy regained consciousness. Baba immediately got into the car and drove off without giving the woman any opportunity to express her gratitude to him.
A Dead Bird Flies
One day Devi Dutt Joshi found a dead bird somewhere. He wrapped it in his handkerchief and put it in his pocket. The next day when he went to see Neem Karoli Baba in Kishanpur, the dead bird was still in his pocket. Seeing him, Baba asked, " What's in your pocket ? " Joshi took out the dead bird, and showing it to Baba, he said, " I have arrested it. " Baba said, " Set it free. " The moment Baba said this, Joshi spread his handkerchief open and the bird flew away.
Grace on a Child
The daughter of Madan Lal Sah of Bhowali was three months old when a lump developed in her throat. Sometime later her brother had an attack of paralysis, so Madan Lal Sah called Dr. Mittal and another doctor to examine him. On his wife's insistence, Sah got his baby daughter to examined at the same time. The doctors advised him to get the lump operated upon in two years. When the family came to Kainchi to see Neem karoli baba. Sah told him about the doctor's opinion and showed him the lump. Baba presses the lump on all sides and it disappeared. When the child was re examined by the doctors, they were surprised that she was cured without any treatement.
A Train Stopped for a Devotee
My uncle was travelling from Kathgodam to Lucknow by train, and Neem Karoli baba was seated in the compartment next to his. At the Bhojipura station, my uncle went to Baba to talk to him. When the train was scheduled to depart, the engine hooted several times and the guard showed the green light, but the train did not move. My uncle old Bab about it and asked him the reason for the delay. Baba said, " I have asked a devotee to meet me here. He is coming, running. " About five minutes later a man arrived looking for Baba. He touched Baba's feet and Baba whispered something to him, blessed him, and sent him away. Then the train moved on.
Neem Karoli Baba Hand
In the Form of Lord Ram
Devi Dutt Joshi used to go to Hanuman garh to visit Neem Karoli Baba. One morning as he met Baba coming down the stairs, he looked up startled. He saw Lord Ram with a bow and arrow instead of Baba. The scene changed in a moment, and he saw Baba again, smiling at him. This incident made a big impression on him, and he cried out, " I now know the reality. You are Ram. I will disclose this secret to everyone. " Baba put his finger to his lips, indicating that he should keep quiet, but he did not pay any attention to Baba and continued shouting.
This incident completely changed his life. He became very detached from the world and acquired a joyous radiance. He spent his days singing devotional songs to Baba and remained blissful up to the last moments of his life.
Neem Karori Baba Ashram Kainchi Dham
Will Power
Shrimati Kamla struggled with serious diseases throughout her life. On one occasion when she went to Lucknow for the marriage of her two nieces, she contracted a fever and her body weakened. She was sad because she could not help share the burden of all the household chores on such a festive occasion. Neem Karori Baba appeared in her dream that night and said, " Increase your will power." The next day, without paying much attention to her weakness, she started working as much as she could, which gave her a lot of satisfaction. After the marriages at Lucknow, she had to go to Meerut for the marriage of her son. There she had to shoulder all the responsibilities be herself. Be following Baba's instruction, she was able to perform the tasks well.
Neem Karoli Baba Miracles After Death
Darshan To a Young Man
One day in 1982 Kishori Lal Sah's wife and son stopped to visit the Kainchi temple on their way from Almora to Nainital. After having darshan of Neem Karori Baba's Murti, Sah's wife went inside to see Sri Ma, and Sah's son remained standing at the temple. However, he did not see Baba's murti, but Baba himself standing, not sitting, there. Sah's son had seen Baba's murti before but had no faith in Baba's unique powers. He was stunned. To bring himself back to reality he roamed about in the temple compound and then returned to Baba's temple. He still saw Baba standing there. He then went into the room where his mother was talking to Sri Ma and lay down on the floor. When Sri Ma asked him the reason for this, he told them about his experience.
Go to Kainchi Dham Ashram
Four years after Neem Karoli Baba Mahasamadhi, Shrimati Reva sah was alone in her house in Nainital one day when she suddenly heard Baba's voice saying, " Why don't you go to Kainchi ? Go, go to Kainchi." When she woke up the next day, she heard the same thing, "Go, Go to Kainchi, Recite Hanuman Chalisa." She went to Kainchi Dham Ashram, Sat before Baba's murti, and recited the Vinaya Chalisa and the Hanuman Chalisa. When she finished singing these hymns, she bowed before Baba's murti. When she raised her head, she saw Baba in place of his murti. Dumbfounded and terrified, she left her seat and went from the temple into the ashram. Even there whenever she glanced at any of Baba's photographs, she saw Baba in bodily form.
The Incarnation of Hanuman
One evening in Kainchi Dham Ashram, Shankar Prasad Vyas was walking with Neem Karoli Baba along the road in front of the ashram. Baba seemed to be in a pensive mood, so when he put his hand on Vyas shoulder, Vyas kept quiet. All of a sudden a thought flashed into his mind that people regard Baba as incarnation of Lord Hanuman. Then he thought, But how can it be believed ? While he was thinking this, he felt the weight of Baba's hand slowly become so heavy that he could not bear it anymore. Baba's hand was placed on his shoulder in a natural way and its size was unchanged. Vyas was very perturbed and hesitated to try to remove the hand so lovingly prayed to Hanuman ji and asked forgiveness for his doubts. The situation immediately became normal, and his doubt was removed.
#neemkarolibaba
Recommended Reading