The 4 Agreements book Author says we are born with the capacity to learn how to dream, and the humans who live before us teach us how to dream the way society dreams. The outside dream has so many rules that when a new human is born, we hook the child's attention and introduce these rules into his or her mind.
The Four Agreements By Don Miguel Ruiz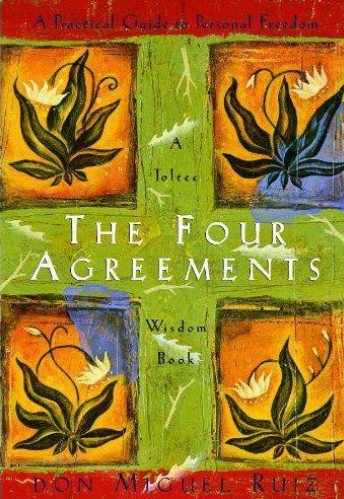 The Summary of Four Agreements
Humans are dreaming all the time. Before we were born the humans before us created a big outside dream that we will call society's dream or the dream of the planet. The dream of the planet is the collective dream of billions of smaller, personal dreams, which together create a dream of a family, a dream of a community, a dream of a city, a dream of a country.
Attention is the ability we have to discriminate and to focus only on that which we want to perceive.
THE 4 AGREEMENTS ARE :
1 : Be Impeccable With Your Word
2 : Don't Take Anything Personally
3 : Don't Make Assumptions
4 : Always Do Your Best
The 4 Agreements By Don Miguel Ruiz Summary
Be Impeccable With Your Word
Author says the word is so powerful that one word can change a life or destroy the lives of millions of people. Some years ago one man in Germany, by the use of the word, manipulated a whole country of the most intelligent people.
The human mind is like a fertile ground where seeds are continually being planted. The seeds are opinions, ideas, and concepts. You plant a seed, a thought, and it grows. The word is like a seed, and the human mind is so fertile!
Being impeccable with your word is not using the word against yourself. If I see you in the street and I call you stupid, it appears that I'm using the word against you. But really I'm using my word against myself
Don't Take Anything Personally
Author says when you take things personally, then you feel offended, and your reaction is to defend your beliefs and create conflicts. You make something big out of something so little, because you have the need to be right and make everybody else wrong. You also try hard to be right by giving them your own opinions.
Whatever people do, feel, think, or say, don't take it personally. If they tell you how wonderful you are, they are not saying that because of you. You know you are wonderful. It is not necessary to believe other people who tell you that you are wonderful. Don't take anything personally.
Don't Make Assumptions
Author says making assumptions in our relationships is really asking for problems. Often we make the assumption that our partners know what we think and that we don't have to say what we want. We assume they are going to do what we want, because they know us so well.
It is very interesting how the human mind works. We have the need to justify everything, to explain and understand everything, in order to feel safe. We have millions of questions that need answers because there are so many things that the reasoning mind cannot explain.
Author says often when you go into a relationship with someone you like, you have to justify why you like that person. You only see what you want to see and you deny there are things you don't like about that person. You lie to yourself just to make yourself right.
Always Do Your Best
Author says doing your best really doesn't feel like work because you enjoy whatever you are doing. You know you're doing your best when you are enjoying the action or doing it in a way that will not have negative repercussions for you.
Action is about living fully. Inaction is the way that we deny life. Inaction is sitting in front of the television every day for years because you are afraid to be alive and to take the risk of expressing what you are. Expressing what you are is taking action.
Doing your best is a great habit to have. I do my best in everything I do and feel. Doing my best has become a ritual in my life because I made the choice to make it a ritual. It's a belief like any other belief that I choose. I make everything a ritual, and I always do my best.
Recommended Reading