The Road Less Traveled Summary Author says life is difficult. This is a great truth, one of the greatest truths. The first of the "Four Noble Truths" which Buddha taught was "Life is suffering." It is a great truth because once we truly see this truth, we transcend it. Once we truly know that life is difficult—once we truly understand and accept it— then life is no longer difficult. Because once it is accepted, the fact that life is difficult no longer matters.
The Road Less Traveled By Scott Peck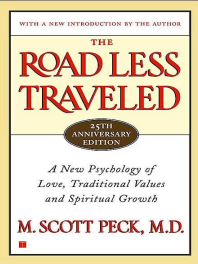 Book : The Road Less Traveled By Scott Peck
The Road Less Traveled Summary
Discipline
The Author says life is a series of problems. Do we want to moan about them or solve them? Do we want to teach our children to solve them? Discipline is the basic set of tools we require to solve life's problems. Without discipline we can solve nothing. With only some discipline we can solve only some problems. With total discipline we can solve all problems.
Problems are the cutting edge that distinguishes between success and failure. Problems call forth our courage and our wisdom; indeed, they create our courage and our wisdom. It is only because of problems that we grow mentally and spiritually. When we desire to encourage the growth of the human spirit, we challenge and encourage the human capacity to solve problems, just as in school we deliberately set problems for our children to solve.
As Benjamin Franklin said, "Those things that hurt, instruct." It is for this reason that wise people learn not to dread but actually to welcome problems and actually to welcome the pain of problems. Most of us are not so wise. Fearing the pain involved, almost all of us, to a greater or lesser degree, attempt to avoid problems. We procrastinate, hoping that they will go away. We ignore them, forget them, pretend they do not exist. This tendency to avoid problems and the emotional suffering inherent in them is the primary basis of all human mental illness.
We cannot solve life's problems except by solving them. This statement may seem idiotically tautological or self-evident, yet it is seemingly beyond the comprehension of much of the human race. This is because we must accept responsibility for a problem before we can solve it. We cannot solve a problem by saying "It's not my problem." We cannot solve a problem by hoping that someone else will solve it for us. I can solve a problem only when I say "This is my problem and it's up to me to solve it.
Dedication to Reality
The tool of discipline or technique of dealing with the pain of problem solving, which must continually be employed if our lives are to be healthy and our spirits are to grow, is dedication to the truth. The more clearly we see the reality of the world, the better equipped we are to deal with the world. The less clearly we see the reality of the world—the more our minds are befuddled by falsehood, misperceptions and illusions—the less able we will be to determine correct courses of action and make wise decisions.
Our view of reality is like a map with which to negotiate the terrain of life. If the map is true and accurate, we will generally know where we are, and if we have decided where we want to go, we will generally know how to get there. If the map is false and inaccurate, we generally will be lost.
What does a life of total dedication to the truth mean? It means, first of all, a life of continuous and never ending stringent self-examination. We know the world only through our relationship to it. Therefore, to know the world, we must not only examine it but we must simultaneously examine the examiner.
Courageous people must continually push themselves to be completely honest, yet must also possess the capacity to withhold the whole truth when appropriate. To be free people we must assume total responsibility for ourselves, but in doing so must possess the capacity to reject responsibility that is not truly ours.
The Road Less Traveled Poem Meaning
This set down
This: were we led all that way for
Birth or Death? This was a Birth, certainly,
We had evidence and no doubt. I had seen birth and death,
But had thought they were different; this Birth was
Hard and bitter agony for us, like Death, our death.
We returned to our places, these Kingdoms,
But no longer at ease here, in the old dispensation,
With an alien people clutching their gods.
I should be glad of another death.
Meaning
Since birth and death seem to be but different sides of the same coin, it is really not at all unreasonable to pay closer heed than we usually do in the West to the concept of reincarnation. But whether or not we are willing to entertain seriously the possibility of some kind of rebirth occurring• simultaneously with our physical death, it is abundantly clear that this lifetime is a series of simultaneous deaths and births. "Throughout the whole of life one must continue to learn to live," said Seneca two millennia ago, "and what will amaze you even more, throughout life one must learn to die."†
It is also clear that the farther one travels on the journey of life, the more births one will experience, and therefore the more deaths—the more joy and the more pain.
Recommended Reading