The purpose of your life is far greater than your own personal fulfillment, your peace of mind, or even your happiness. It's far greater than your family, your career, or even your wildest dreams and ambitions.
The Purpose Driven Life By Rick Warren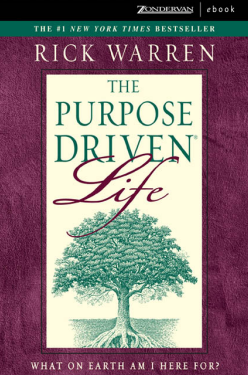 The Purpose Driven Life By Rick Warren Summary
If you want to know why you were placed on this planet, you must begin with God. You were born by his purpose and for his purpose. The search for the purpose of life has puzzled people for thousands of years. That's because we typically begin at the wrong starting point—ourselves. We ask self-centered questions like What do I want to be? What should I do with my life? What are my goals, my ambitions, my dreams for my future?
Many people try to use God for their own self actualization, but that is a reversal of nature and is doomed to failure. You were made for God, not vice versa, and life is about letting God use you for his purposes, not your using him for your own purpose. The Bible says, "Obsession with self in these matters is a dead end; attention to God leads us out into the open, into a spacious, free life."
You Are Not an Accident
Your birth was no mistake or mishap, and your life is no fluke of nature. Your parents may not have planned you, but God did. He was not at all surprised by your birth. In fact, he expected it. Long before you were conceived by your parents, you were conceived in the mind of God. He thought of you first. It is not fate, nor chance, nor luck, nor coincidence that you are breathing at this very moment.
God is not haphazard; he planned it all with great precision. The more physicists, biologists, and other scientists learn about the universe, the better we understand how it is uniquely suited for our existence, custom-made with the exact specifications that make human life possible.
The Benefits of Purpose Driver Living
The greatest tragedy is not death, but life without purpose.

Knowing your purpose gives meaning to your life. We were made to have meaning. This is why people try dubious methods, like astrology or psychics, to discover it. When life has meaning, you can bear almost anything; without it, nothing is bearable.
Hope is as essential to your life as air and water. You need hope to cope. Dr. Bernie Siegel found he could predict which of his cancer patients would go into remission by asking, "Do you want to live to be one hundred?" Those with a deep sense of life purpose answered yes and were the ones most likely to survive. Hope comes from having a purpose
The Purpose Driven Life Summary
Made to Last Forever
Life on earth is just the dress rehearsal before the real production. You will spend far more time on the other side of death—in eternity—than you will here. Earth is the staging area, the preschool, the tryout for your life in eternity. It is the practice workout before the actual game; the warm-up lap before the race begins. This life is preparation for the next.
While life on earth offers many choices, eternity offers only two: heaven or hell. Your relationship to God on earth will determine your relationship to him in eternity. If you learn to love and trust God's Son, Jesus, you will be invited to spend the rest of eternity with him. On the other hand, if you reject his love, forgiveness, and salvation, you will spend eternity apart from God forever.
Life is Temporary Assignment
To make the best use of your life, you must never forget two truths: First, compared with eternity, life is extremely brief. Second, earth is only a temporary residence. You won't be here long, so don't get too attached. Ask God to help you see life on earth as he sees it.
In order to keep us from becoming too attached to earth, God allows us to feel a significant amount of discontent and dissatisfaction in life—longings that will never be fulfilled on this side of eternity. We're not completely happy here because we're not supposed to be! Earth is not our final home; we were created for something much better.
The Reason For Everything
The ultimate goal of the universe is to show the glory of God. It is the reason for everything that exists, including you. God made it all for his glory. Without God's glory, there would be nothing.
What is the glory of God? It is who God is. It is the essence of his nature, the weight of his importance, the radiance of his splendor, the demonstration of his power, and the atmosphere of his presence. God's glory is the expression of his goodness and all his other intrinsic, eternal qualities.
God's inherent glory is what he possesses because he is God. It is his nature. We cannot add anything to this glory, just as it would be impossible for us to make the sun shine brighter. But we are commanded to recognize his glory, honor his glory, declare his glory, praise his glory, reflect his glory, and live for his glory. Why? Because God deserves it! We owe him every honor we can possibly give.
About the Author :
Rick Warren is the founding pastor of Saddleback Church in Lake Forest, California, one of America's largest and best-known churches. His previous book, The Purpose-Driven® Church, has sold over a million copies in 20 languages. Winner of the Gold Medallion, it was selected as one of the 100 Christian Books That Changed the 20th Century.
Recommended Reading
The List of Best Books By Rick Warren You Should Read