The "obstacle is the way" author says every obstacle is unique to each of us. But the responses they elicit are the same: Fear. Frustration. Confusion. Helplessness. Depression. Anger. You know what you want to do but it feels like some invisible enemy has you boxed in, holding you down with pillows. You try to get somewhere, but something invariably blocks the path, following and thwarting each move you make.
The Obstacle is the Way By Ryan Holiday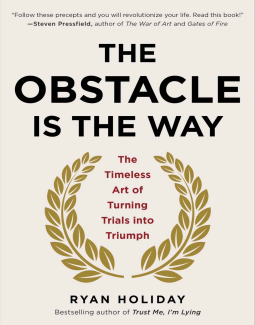 Author : Ryan Holiday
Summary of Obstacle is the Way By Ryan Holiday
It's not just: How can I think this is not so bad? No, it is how to will yourself to see that this must be good an opportunity to gain a new foothold, move forward, or go in a better direction. Not "be positive" but learn to be ceaselessly creative and opportunistic
"The obstacle in the path becomes the path. Never forget, within every obstacle is an opportunity to improve our condition."
Author says all great victories, be they in politics, business, art, or seduction, involved resolving vexing problems with a potent cocktail of creativity, focus, and daring. When you have a goal, obstacles are actually teaching you how to get where you want to go—carving you a path.
Many of our problems come from having too much: rapid technological disruption, junk food, traditions that tell us the way we're supposed to live our lives. We're soft, entitled, and scared of conflict. Great times are great softeners. Abundance can be its own obstacle, as many people can attest.
PERCEPTION
Author says you will come across obstacles in life—fair and unfair. And you will discover, time and time again, that what matters most is not what these obstacles are but how we see them, how we react to them, and whether we keep our composure.
Where one person sees a crisis, another can see opportunity. Where one is blinded by success, another sees reality with ruthless objectivity. Where one loses control of emotions, another can remain calm. Desperation, despair, fear, powerlessness—these reactions are functions of our perceptions.
We can learn to perceive things differently, to cut through the illusions that others believe or fear. We can stop seeing the "problems" in front of us as problems. We can learn to focus on what things really are.
RECOGNIZE YOUR POWER
Author says just because your mind tells you that something is awful or evil or unplanned or otherwise negative doesn't mean you have to agree. Just because other people say that something is hopeless or crazy or broken to pieces doesn't mean it is. We decide what story to tell ourselves. Or whether we will tell one at all.
We decide what we will make of each and every situation. We decide whether we'll break or whether we'll resist. We decide whether we'll assent or reject. No one can force us to give up or to believe something that is untrue (such as, that a situation is absolutely hopeless or impossible to improve).
ALTER YOUR PERSPECTIVE
We choose how we'll look at things. We retain the ability to inject perspective into a situation. We can't change the obstacles themselves that part of the equation is set—but the power of perspective can change how the obstacles appear.
What we're forgetting in that instance, as billionaire serial entrepreneur Richard Branson likes to say, is that "business opportunities are like buses; there's always another coming around." One meeting is nothing in a lifetime of meetings, one deal is just one deal. In fact, we may have actually dodged a bullet. The next opportunity might be better.
LIVE IN THE PRESENT MOMENT
One thing is certain. It's not simply a matter of saying: Oh, I'll live in the present. You have to work at it. Catch your mind when it wanders—don't let it get away from you. Discard distracting thoughts. Leave things well enough alone—no matter how much you feel like doing otherwise.
Remember that this moment is not your life, it's just a moment in your life. Focus on what is in front of you, right now. Ignore what it "represents" or it "means" or "why it happened to you."
WILL
Will is our internal power, which can never be affected by the outside world. It is our final trump card. If action is what we do when we still have some agency over our situation, the will is what we depend on when agency has all but disappeared.
True will is quiet humility, resilience, and flexibility; the other kind of will is weakness disguised by bluster and ambition. See which lasts longer under the hardest of obstacles.
Recommended Reading