The Autobiography of a Yogi Summary Author says mind is the wielder of muscles. The force of a hammer blow depends on the energy applied; the power expressed by a man's bodily instrument depends on his aggressive will and courage. The body is literally manufactured and sustained by mind. Through pressure of instincts from past lives, strengths or weaknesses percolate gradually into human consciousness. They express as habits, which in turn ossify into a desirable or an undesirable body. Outward frailty has mental origin; in a vicious circle, the habit-bound body thwarts the mind. If the master allows himself to be commanded by a servant, the latter becomes autocratic; the mind is similarly enslaved by submitting to bodily dictation.
Autobiography of a Yogi By Paramahansa Yogananda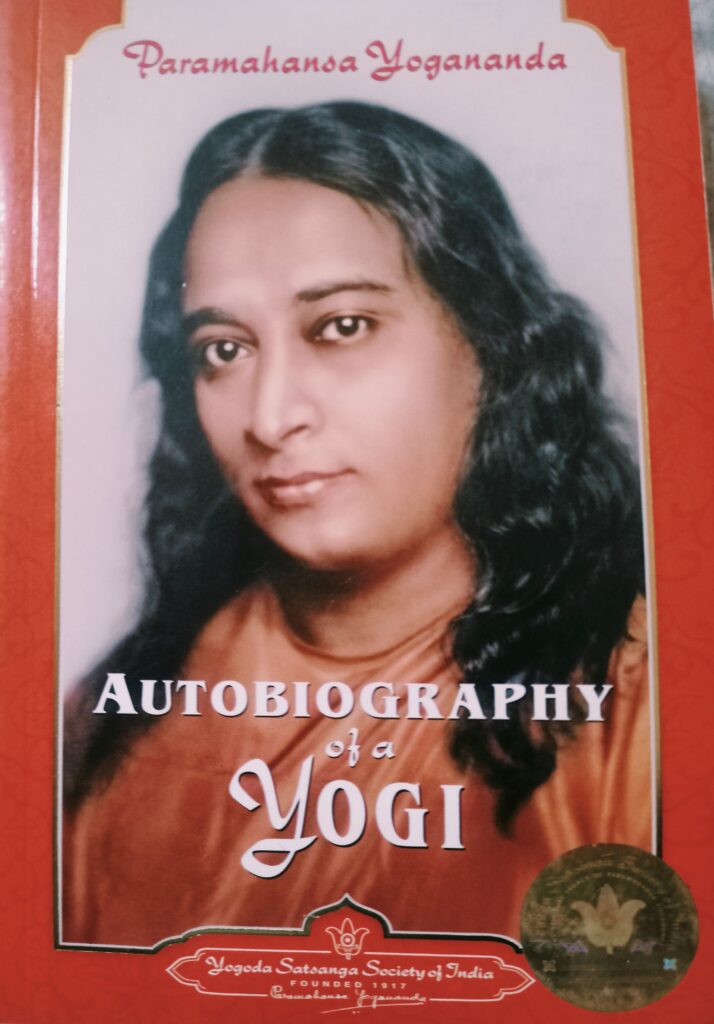 Buy on Amazon Download on Kindle
The deeper the self-realization of a man, the more he influences the whole universe by his subtle spiritual vibrations, and the less he himself is affected by the phenomenal flux.
The Summary of Autobiography of a Yogi
Early Life
Paramahansa Yogananda was born in the last decade of the nineteenth century, and passed his first eight years at Gorakhpur. This was my birthplace in the United Provinces of northeastern India. We were eight children: four boys and four girls. I, Mukunda Lal Ghosh 1-4, was the second son and the fourth child.
Father and Mother were Bengalis, of the kshatriya caste. 1-5 Both were blessed with saintly nature. Their mutual love, tranquil and dignified, never expressed itself frivolously. A perfect parental harmony was the calm center for the revolving tumult of eight young lives. Father, Bhagabati Charan Ghosh, was kind, grave, at times stern. Loving him dearly, we children yet observed a certain reverential distance. An outstanding mathematician and logician, he was guided principally by his intellect.
In mother's presence we tasted our earliest bitter-sweet acquaintance with the scriptures. Tales from the mahabharata and ramayana 1-6 were resourcefully summoned to meet the exigencies of discipline. Instruction and chastisement went hand in hand.
Synopsis of Autobiography of a Yogi
The one who pursues a goal of even mindedness is neither jubilant with gain nor depressed by loss. He knows that man arrives penniless in this world, and departs without a single rupee.
Any word spoken with clear realization and deep concentration has a materializing value. Loud or silent repetition of inspiring words has been found effective in Coueism and similar systems of psychotherapy; the secret lies in the stepping-up of the mind's vibratory rate.
India's unwritten law for the truth seeker is patience; a master may purposely make a test of one's eagerness to meet him. This psychological ruse is freely employed in the West by doctors and dentists!
A yogi must be able to pass into, and continue in, the superconsciousness, regardless of multitudinous distractions never absent from this earth. Whether in the buzz of insects or the pervasive glare of daylight, the testimony of the senses must be barred. Sound and sight come then indeed, but to worlds fairer than the banished Eden.
A saying from the Hindu scripture is "In shallow men the fish of little thoughts cause much commotion. In oceanic minds the whales of inspiration make hardly a ruffle."
"Forget the past," Sri Yukteswar would console him. "The vanished lives of all men are dark with many shames. Human conduct is ever unreliable until anchored in the Divine. Everything in future will improve if you are making a spiritual effort now."
Wisdom is the greatest cleanser.
The body is a treacherous friend. Give it its due; no more," . "Pain and pleasure are transitory; endure all dualities with calmness, while trying at the same time to remove their hold. Imagination is the door through which disease as well as healing enters. Disbelieve in the reality of sickness even when you are ill; an unrecognized visitor will flee!
"Good manners without sincerity are like a beautiful dead lady," he remarked on suitable occasion. "Straightforwardness without civility is like a surgeon's knife, effective but unpleasant. Candor with courtesy is helpful and admirable.
Those who are too good for this world are adorning some other," Sri Yukteswar remarked. "So long as you breathe the free air of earth, you are under obligation to render grateful service. He alone who has fully mastered the breathless state 12-16 is freed from cosmic imperatives.
Just as the purpose of eating is to satisfy hunger, not greed, so the sex instinct is designed for the propagation of the species according to natural law, never for the kindling of insatiable longings," he said. "Destroy wrong desires now; otherwise they will follow you after the astral body is torn from its physical casing. Even when the flesh is weak, the mind should be constantly resistant. If temptation assails you with cruel force, overcome it by impersonal analysis and indomitable will. Every natural passion can be mastered.
Conserve your powers. Be like the capacious ocean, absorbing within all the tributary rivers of the senses. Small yearnings are openings in the reservoir of your inner peace, permitting healing waters to be wasted in the desert soil of materialism. The forceful activating impulse of wrong desire is the greatest enemy to the happiness of man. Roam in the world as a lion of self-control; see that the frogs of weakness don't kick you around.
The devotee is finally freed from all instinctive compulsions. He transforms his need for human affection into aspiration for God alone, a love solitary because omnipresent.
I do not expect anything from others, so their actions cannot be in opposition to wishes of mine.
All thoughts vibrate eternally in the cosmos. By deep concentration, a master is able to detect the thoughts of any mind, living or dead. Thoughts are universally and not individually rooted; a truth cannot be created, but only perceived. The erroneous thoughts of man result from imperfections in his discernment. The goal of yoga science is to calm the mind, that without distortion it may mirror the divine vision in the universe.
Man is a soul, and has a body. When he properly places his sense of identity, he leaves behind all compulsive patterns. So long as he remains confused in his ordinary state of spiritual amnesia, he will know the subtle fetters of environmental law.
God is harmony; the devotee who attunes himself will never perform any action amiss. His activities will be correctly and naturally timed to accord with astrological law. After deep prayer and meditation he is in touch with his divine consciousness; there is no greater power than that inward protection.
All human ills arise from some transgression of universal law. The scriptures point out that man must satisfy the laws of nature, while not discrediting the divine omnipotence. He should say: 'Lord, I trust in Thee, and know Thou canst help me, but I too will do my best to undo any wrong I have done.' By a number of means-by prayer, by will power, by yoga meditation, by consultation with saints, by use of astrological bangles-the adverse effects of past wrongs can be minimized or nullified.
He who has attained a state of calmness wherein his eyelids do not blink has achieved Sambhabi Mudra.
"In sleep, you do not know whether you are a man or a woman," he said. Just as a man, impersonating a woman, does not become one, so the soul, impersonating both man and woman, has no sex. The soul is the pure, changeless image of God.
The Hindu scripture declare that those who habitually speak the truth develop the power of materializing their words. What command they utter from the heart come to pass. Because the worlds are built on truth, all scriptures extol it as a virtue by which man may tune his life with the infinite. Mahatma Gandhi often said : " Truth is God"; his lifelong striving was for perfect truth in thought, speech and act. Throughout the ages the ideal of Satya ( truth ) has permeated Hindu society.
Recommended Reading