The Art of Work Summary author says there are books that talk about how to find your dream job or what it takes to become an expert—this just isn't one of them. The Art of Work is a book about vocation, a word that has come to mean something very different from the original definition.
The Art of Work By Jeff Goins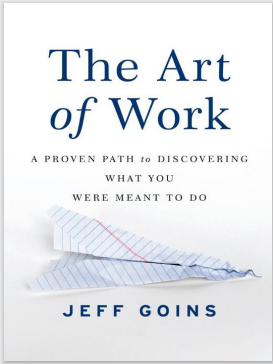 Book : The Art of Work By Jeff Goins
The Art of Work By Jeff Goins Summary
At some point, you entertained the idea that you were born to do something significant. But then high school happened. Or college. And your parents talked you into becoming a lawyer instead of a baker. No matter how noisy the world got, no matter how busy you became, there would always be something inside you—a small voice that whispered in the quieter moments of life, taunting you with the shadow of the unlived life. If you listen hard enough, you can still hear it.
There is a way to meaningful work that doesn't force you to conform to your parents' career path or to compromise your values. It won't be like any class you've taken and probably won't resemble what your teachers told you the future would look like, but it can be trusted.
Letting Go of What Could Have Been
Each of us has had surprises and setbacks in life, disappointments that have disrupted what we thought was the way. And we're left with something that looks less like a personal purpose and more like a mess. We can't control what life throws our way, but we can control how we react to it. As we do, maybe we come closer to a meaningful life than any plan could ever take us. To do this, though, we have to let go of what we think we deserve and embrace what is, which just might lead to something better than we ever could have imagined.
The Good Kind of Fear
You don't "just know" what your calling is. You must listen for clues along the way, discovering what your life can tell you. Awareness comes with practice.
Fear is a powerful deterrent, but it can also be an effective motivator. The fear of failure or rejection can be unhealthy and irrational, but fear of not telling your loved ones how much you care is important. So not all fear is bad. Some people, though, let fear run their lives.
The Wrong Kind of Fear
I don't have a dream . It was the fear that haunted my thoughts that day, lingering in my mind. I sank down deep in my seat, surrounded by a hundred pairs of hopeful eyes. Most people waste the best years of their life waiting for an adventure to come to them instead of going out and finding one. They succumb to the status quo and dream of life being different someday.
We often think of a calling as something that comes to us, an epiphany that arrives when we least expect it. But the truth is, in some ways, it's already come. You already have some sense of what you're supposed to do with your life, even if you aren't sure what it is.
Multiple Mentors
Mentoring is an easy word to throw around these days. You'll hear it tossed into conversation amongst friends or casually mentioned between business colleagues over coffee. But mentoring is much easier to talk about than it is to practice.
Throughout the process of finding your life's work, you must be willing to look for mentors in unexpected places. Your friends, long-lost relatives, even old relationships that have dwindled down may become the sources of inspiration you need.
Every place you go, every person you meet, every job you have is a chance to gain greater clarity in your self education. Life is the classroom, and if you are paying attention, you can recognize the daily lessons available.
The Myth of Talent
It's a typical story. If you're familiar with any talent show, you know it well. Young dreamer waiting her whole life for a shot at the big time leaves home in search of an opportunity. When she gets the chance, she steps into the spotlight and proceeds to completely bomb, all in front of a live audience. It's painful but entertaining to watch, and we all feel a slight twinge of guilt for amusing ourselves at someone else's expense.
Mindset
In an era of human history in which we prize comfort above nearly every other virtue, we have overlooked an important truth: comfort never leads to excellence. What it takes to become great at your craft is practice, but not just any kind of practice—the kind that hurts, that stretches and grows you.
if you've never tested your skills that much, then you probably haven't discovered your true vocation. Sometimes, the only way to know the difference between a hobby and a calling is to put yourself through the crucible of painful practice.
About Author :
Jeff Goins is a full-time writer who lives just outside of Nashville, Tennessee, with his wife, son, and border collie. He has authored three other books: The In-Between, Wrecked, and You Are a Writer . He spent a year after college traveling around the United States with a band, and they hit it big in Taiwan. His website, Goinswriter.com, has been visited by more than four million people from all over the world.
Recommended Reading