Secrets of millionaire mind Summary Author says if you want to move to a higher level of life, you have to be willing to let go of some of your old ways of thinking and being and adopt new ones. The results will eventually speak for themselves. The author says I have a saying: "It's not enough to be in the right place at the right time. You have to be the right person in the right place at the right time."
SECRETS OF MILLIONAIRE MIND BY HARV EKER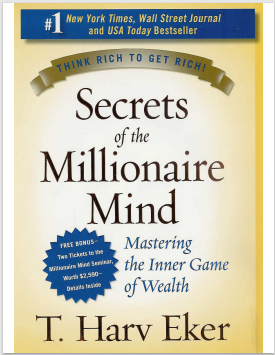 Book : Secrets of Millionaire mind
Author : Harv Eker
Secrets of Millionaire Mind Summary
One of Author favorite authors, Stuart Wilde, puts it this way: "The key to success is to raise your own energy; when you do, people will naturally be attracted to you. And when they show up, bill 'em!"
The vast majority of people simply do not have the internal capacity to create and hold on to large amounts of money and the increased challenges that go with more money and success. That, my friends, is the primary reason they don't have much money.
Money is a result, wealth is a result, health is a result, illness is a result, your weight is a result. We live in a world of cause and effect.
One of the most important things you can ever understand is that we do not live on only one plane of existence. We live in at least four different realms at once. These four quadrants are the physical world, the mental world, the emotional world, and the spiritual world. What most people never realize is that the physical realm is merely a "printout" of the other three.
The Author says remember, your inner world reflects your outer world. If you believe you are not enough, you will validate that belief and create the reality that you don't have enough. On the other hand, if you believe you are plenty, you will validate that belief and create plenty of abundance.
The Wealth Files
The Author says most people understand we are creatures of habit, but what they don't realize is that there are actually two kinds of habits: doing habits and not-doing habits. Everything you are not doing right now, you are in the habit of not doing. The only way to change these not-doing habits into doing habits is to do them. Reading will assist you, but it's a whole different world when you go from reading to doing.
You have to believe that you are the one who creates your success, that you are the one who creates your mediocrity, and that you are the one creating your struggle around money and success. Consciously or unconsciously, it's still you.
The Author says I'm a big believer in the universal law that states, "What you focus on expands." When you are complaining, what are you focusing on, what's right with your life or what's wrong with it? You are obviously focusing on what's wrong with it, and since what you focus on expands, you'll keep getting more of what's wrong.
One of the principles we teach in our programs is "If you shoot for the stars, you'll at least hit the moon." Poor people don't even shoot for the ceiling in their house, and then they wonder why they're not successful. Well, they just found out. You get what you truly intend to get. If you want to get rich, your goal has to be rich.
The number one reason most people don't get what they want is that they don't know what they want. Rich people are totally clear that they want wealth. They are unwavering in their desire. They are fully committed to creating wealth. As long as it's legal, moral, and ethical, they will do whatever it takes to have wealth.
The Millionaire Mind Summary
The Author says most people choose to play small. Why? First, because of fear. They're scared to death of failure and they're even more frightened of success. Second, people play small because they feel small. They feel unworthy. They don't feel they're good enough or important enough to make a real difference in people's lives.
Your life is not just about you. It's also about contributing to others. It's about living true to your mission and reason for being here on this earth at this time. It's about adding your piece of the puzzle to the world. Most people are so stuck in their egos that everything revolves around me, me, and more me.
One of the greatest inventors and philosophers of our time, Buckminster Fuller, said, "The purpose of our lives is to add value to the people of this generation and those that follow."
The world doesn't need more people playing small. It's time to stop hiding out and start stepping out. It's time to stop needing and start leading. It's time to start sharing your gifts instead of hoarding them or pretending they don't exist. It's time you started playing the game of life in a "big" way.
Rich people see opportunities. Poor people see obstacles. Rich people see potential growth. Poor people see potential loss. Rich people focus on the rewards. Poor focus on the risks.
Your field of focus determines what you find in life. Focus on opportunities and that's what you find. Focus on obstacles and that's what you find. I'm not saying that you don't take care of problems. Of course, handle problems as they arise, in the present. But keep your eye on your goal, keep moving toward your target.
The Author says I have a motto: "Action always beats inaction." Rich people get started. They trust that once they get in the game, they can make intelligent decisions in the present moment, make corrections, and adjust their sails along the way.
Poor people don't trust in themselves or their abilities, so they believe they have to know everything in advance, which is virtually impossible. Meanwhile they don't do squat! In the end, with their positive, "ready, fire, aim," attitude, rich people take action and usually win.
The Author says one of the philosophies I live by comes from ancient Huna wisdom, the original teachings of the Hawaiian elders. It goes like this: bless that which you want. If you see a person with a beautiful home, bless that person and bless that home. If you see a person with a beautiful car, bless that person and bless that car.
Recommended Reading