Sea of poppies by Amitav Ghosh Summary story goes around a Ship called Ibis. The ship was originally built in America for transporting slaves from Africa. The Sea of Poppies novel is written by famous Indian author Amitav Ghosh. The novel was published in 2008 and it was awarded with Man Booker Prize in 2008. It is a first volume of Ibis Trilogy.
SEA OF POPPIES BY AMITAV GHOSH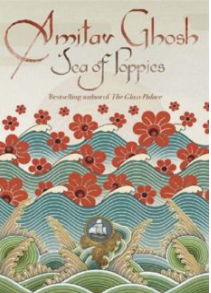 Sea of Poppies By Amitav Ghosh Summary
Sea of poppies is a classic novel sets in 1830s, opposed to backdrop of earliest set of opium wars. In 1830s, India was the largest producer AND supplier of opium. The British wealth pursuit in India accumulate enormous wealth that keep up the Colonial rule by switching the Banks of Ganga into a sea of poppies to develop opium AND export it unlawfully to China. The trades were monopolized by British vendor beneath the seed of company. The farmers of Bengal and Bihar were compel to switch their fertile farmland to the companies merchant for opium production and this cause global poverty AND starvation because land which has provided the foods were now swamped with rising of opium.
The Chinese rulers were tenacious to stop the trade that was undermining their country economy by turning numerous of people into opium junkie. The British merchant use force to decline the Chinese regulation on free trade AND manipulating the British crown to wage the notorious opium war. Between 1839 and 1842, British fought a war in China to access China huge market by free trade..
The story of a book goes around a Ship called Ibis. The ship was originally built in America for transporting slaves from Africa. The ship has undergone for a modification after an abolition of slavery. The ship is sold out to British company shipping organization and trading house Burnham brothers who has large scale imports in China and India. The new owner of ship Benjamin Burnham who has his business head quarter in Calcutta has purchased a Naval for different trade that is exporting opium to china and transporting labors to British colony in Caribbean Island. The Ship has a British captain Chillingworth who is in addiction of opium. His second made Zachary Reid who is born to quadroon mother and a white American father. Zachary is a fearless seaman who has no limitations but who will always bound to the cruel history of Colonialism and stigma of colors.
The ship fix its crew in capetown in way to Calcutta where ship will be renovate to transport coolies to the sugar plantation in Mauritius. The Lascars has come from locations which are far distant & they have no similarities except Indian Ocean. The crew consist of East African, Chinese, Arabs, Bengalis and Tamils. Their leader Serang Ali is man of formidable appearance with a face that would have earned the envy of Genghis Khan. The action begins with arrival of Ibis and dropping of its anchors nearby Ganga Sagar Island in the second week of March 1838 as the ship wades for the pilot boar to take it to Calcutta port.
SUMMARY OF SEA OF POPPIES
The novel story starts in a riverside village in Easter Bihar where Deeti, a first victim of an enforced opium cultivation in the novel. Her husband Hukam Singh, an opium addict who works in Southern opium factory. The unlucky Deeti figures out that on her marriage night she was drugged with opium by her mother in law so that her brother in law could consummate the marriage in place of her infertile husband. The actual father of Deeti's daughter Kabutri is her brother in law. When Deeti's husband dies she sends Kabutri to stay with relative she look certain to meet her doom when she chooses to go through the Sati ritual that is the immolation on her husband funeral. But Kalua, a Oxman from a neighouring village comes to her rescue. The couplet flee and unite which is not quite acceptable to their fellow villagers. In order to escape from Deeti's mother in laws she and Kalua become endangered servants on the Ibis.
Zachery Reed born to a slave mother and white father, earned a lot of attention. He was on Ibis since the ibis started its challenging journey and he aim to die with it. He maintains that ever since childhood his life has never seen more interesting article than the Ibis & it is no lesser than a mother to him. Supporting him in his darks hours & rejoicing with him in his happiness. With the spot of the head of the lascars's Serang Ali becomes the second commander of the ship. When it was refitted to carry endangered labors to the island of Mauritius instead of the tradable opium.
Neel Rattan Halder whose dynasty has been ruling the zemindary of Rakshali for ages is confronted by Mr Burnham with the need to sell off his states in order to pay the debt he had incurred when trading opium with china at the height of the opium trade. But now the opium trade has come to a stand still as a result of the resistance shown by Chinese authorities. He is left with no money to clear his loans. When Mr Burnham proposes to settle the load for Haldar Zamindary, Halder refuses the deal as his Zemindary is his family's property and selling it would mean turning his back on his many dependents leaving in his household and Zemindary.
The Court penalized him by sentencing him to work as an endangered labor for 7 years in Mauritius. It is then he meets Affat, a half Chinese & half Parsi who is opium addict. His soul companion in prison since the two will eventually transported together on the Ibis.
The book also features Paulette, a French orphan who has also grown up in India. Mr Burhnham takes Paulette her into their home after her father's death. She becomes determined to run away because Mr Burham has behaved in disturbing way with her & he is trying to get her married to his friend, the stern, elderly Justice Kendalbushe. As it happens Paulette had met Zachery Reed, the American sailor at a dinner at Burnham's house. She was instantly drawn to him & Zachery to her.
She has resolve to travel Maritius in the hope of better life & future. She goes along with Jodu, a childhood friend or brother as both Jodu & Paulette are brought up under a care of Jodu's mother. She boats the Ibis unaware of destiny, she disguised herself as an Indian women using her fluent Bengali which she learns in childhood growing up with Jodu's & his mother. Paulette upbringing in India also made her feel more at ease with Indian manners, food & clothing.
She meets Babu Krishna Panda, an agent responsible for the transport of endangered coolies. Despite his eccentric behavior he renders great service to the advancement of plot. Among the ship passengers are people of all nationalities and culture, some of them are like girmitiyas whoS are crossing the sea to escape the destitution at home & some like Neel and Affat are being transported as convict.
The peak is carry out through a series of encounters & discoveries which inevitable push the narrative to a crisis. By a cleverly road co incident Deeti's vengeful relative, the uncle of late Hukam Singh appears as Subedar on ship. It's Bhyro Singh who eventually captures Deeti & Kalua which leads to torture & murder. The narrative closes with Ibis tossing in mid ocean amids a stone. Bhyro Singh & Mr Crawl are killed by Kalua & Affat respectively. Serang Ali, a leader of the crew abandons the Ibis in a boat along with the convicts Neel & Affat and condemned Kalua & Jodu. Deeti & Paulette, Zachery & Krishna are left on ship. The first part of the trilogy ends neither in despair nor in resolution. It leaves the readers in curiosity wishing for more.
RECOMMENDED READING