There were humans long before there was history. Animals much like modern humans first appeared about 2.5 million years ago. But for countless generations they did not stand out from the myriad other organisms with which they shared their habitats.
Sapiens : A Brief History of Humankind By Yuval Noah Harari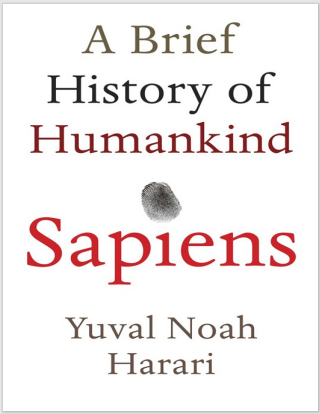 Book : Sapiens : A Brief History of Humankind
Summary of Sapiens By Yuval Noah Harari
Homo sapiens has kept hidden an even more disturbing secret. Not only do we possess an abundance of uncivilised cousins, once upon a time we had quite a few brothers and sisters as well. We are used to thinking about ourselves as the only humans, because for the last 10,000 years, our species has indeed been the only human species around.
Humans first evolved in East Africa about 2.5 million years ago from an earlier genus of apes called Australopithecus, which means 'Southern Ape'. About 2 million years ago, some of these archaic men and women left their homeland to journey through and settle vast areas of North Africa, Europe and Asia.
THE COST OF THINKING
Author says all human species share several defining characteristics. Most notably, humans have extraordinarily large brains compared to other animals. Mammals weighing sixty kilograms have an average brain size of 200 cubic Centimetres. The earliest men and women, 2.5 million years ago, had brains of about 600 cubic Centimetres.
Today our big brains pay off nicely, because we can produce cars and guns that enable us to move much faster than chimps, and shoot them from a safe distance instead of wrestling. But cars and guns are a recent phenomenon. For more than 2 million years, human neural networks kept growing and growing, but apart from some flint knives and pointed sticks, humans had precious little to show for it.
We assume that a large brain, the use of tools, superior learning abilities and complex social structures are huge advantages. It seems self-evident that these have made humankind the most powerful animal on earth. But humans enjoyed all of these advantages for a full 2 million years during which they remained weak and marginal creatures.
A RACE OF COOKS
A significant step on the way to the top was the domestication of fire. Some human species may have made occasional use of fire as early as 800,000 years ago. By about 300,000 years ago, Homo erectus, Neanderthals and the forefathers of Homo sapiens were using fire on a daily basis. Humans now had a dependable source of light and warmth, and a deadly weapon against prowling lions.
When humans domesticated fire, they gained control of an obedient and potentially limitless force. Unlike eagles, humans could choose when and where to ignite a flame, and they were able to exploit fire for any number of tasks. Most importantly, the power of fire was not limited by the form, structure or strength of the human body. A single woman with a flint or fire stick could burn down an entire forest in a matter of hours.
The advent of cooking enabled humans to eat more kinds of food, to devote less time to eating, and to make do with smaller teeth and shorter intestines. Some scholars believe there is a direct link between the advent of cooking, the shortening of the human intestinal track, and the growth of the human brain.
THE TREE OF KNOWLEDGE
Every animal has some kind of language. Even insects, such as bees and ants, know how to communicate in sophisticated ways, informing one another of the whereabouts of food. Neither was it the first vocal language. Many animals, including all ape and monkey species, have vocal languages.
Social cooperation is our key for survival and reproduction. It is not enough for individual men and women to know the whereabouts of lions and bison. It's much more important for them to know who in their band hates whom, who is sleeping with whom, who is honest, and who is a cheat.
You could never convince a monkey to give you a banana by promising him limitless bananas after death in monkey heaven. But why is it important? After all, fiction can be dangerously misleading or distracting. People who go to the forest looking for fairies and unicorns would seem to have less chance of survival than people who go looking for mushrooms and deer. And if you spend hours praying to non-existing guardian spirits, aren't you wasting precious time, time better spent foraging, fighting and fornicating?
Telling effective stories is not easy. The difficulty lies not in telling the story, but in convincing everyone else to believe it. Much of history revolves around this question: how does one convince millions of people to believe particular stories about gods, or nations, or limited liability companies? Yet when it succeeds, it gives Sapiens immense power, because it enables millions of strangers to cooperate and work towards common goals.
The ability to create an imagined reality out of words enabled large numbers of strangers to cooperate effectively. But it also did something more. Since large-scale human cooperation is based on myths, the way people cooperate can be altered by changing the myths – by telling different stories.
Recommended Reading