Mindset Book Summary says when you enter a mindset, you enter a new world. In one world—the world of fixed traits—success is about proving you're smart or talented. Validating yourself. In the other—the world of changing qualities—it's about stretching yourself to learn something new. Developing yourself.
MINDSET BY CAROL DWECK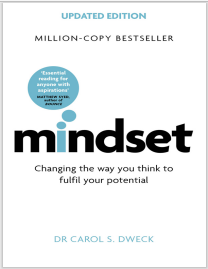 Book : Mindset By Carol Dweck
Summary of Book Mindset By Carol Dweck
GROWTH MINDSET
The Author says everyone is born with an intense drive to learn. Infants stretch their skills daily. Not just ordinary skills, but the most difficult tasks of a lifetime, like learning to walk and talk. They never decide it's too hard or not worth the effort. Babies don't worry about making mistakes or humiliating themselves. They walk, they fall, they get up. They just barge forward.
People are all born with a love of learning, but the fixed mindset can undo it. Think of a time you were enjoying something—doing a crossword puzzle, playing a sport, learning a new dance. Then it became hard and you wanted out. Maybe you suddenly felt tired, dizzy, bored, or hungry. Next time this happens, don't fool yourself. It's the fixed mindset. Put yourself in a growth mindset.
People in a growth mindset don't just seek challenge, they thrive on it. The bigger the challenge, the more they stretch. And nowhere can it be seen more clearly than in the world of sports. You can just watch people stretch and grow.
When people believe their basic qualities can be developed, failures may still hurt, but failures don't define them. And if abilities can be expanded—if change and growth are possible—then there are still many paths to success.
The Author says a remarkable thing I've learned from my research is that in the growth mindset, you don't always need confidence. What I mean is that even when you think you're not good at something, you can still plunge into it wholeheartedly and stick to it. Actually, sometimes you plunge into something because you're not good at it. This is a wonderful feature of the growth mindset.
FIXED MINDSET
The Author says growth mindset also doesn't mean everything that can be changed should be changed. We all need to accept some of our imperfections, especially the ones that don't really harm our lives or the lives of others.
The fixed mindset stands in the way of development and change. The growth mindset is a starting point for change, but people need to decide for themselves where their efforts toward change would be most valuable.
People with the fixed mindset can have just as much confidence as people with the growth mindset before anything happens, that is. But as you can imagine, their confidence is more fragile since setbacks and even effort can undermine it.
When people with a fixed mindset talk about their conflicts, they assign blame. Sometimes they blame themselves, but often they blame their partner. And they assign blame to a trait—a character flaw.
Grow Your Mindset
Think about your hero. Do you think of this person as someone with extraordinary abilities who achieved with little effort? Now go find out the truth. Find out the tremendous effort that went into their accomplishment—and admire them more.
Think of times other people outdid you and you just assumed they were smarter or more talented. Now consider the idea that they just used better strategies, taught themselves more, practiced harder, and worked their way through obstacles. You can do that, too, if you want to.
The fixed- and growth-mindset groups started with the same ability, but as time went on the growth mindset groups clearly outperformed the fixed mindset ones. And this difference became ever larger the longer the groups worked. Once again, those with the growth mindset profited from their mistakes and feedback far more than the fixed-mindset people.
About the Author :
Carol Dweck is widely regarded as one of the world's leading researchers in the fields of personality, social psychology and developmental psychology. She has been the William B. Ransford Professor of Psychology at Columbia University and is now the Lewis and Virginia Eaton Professor of Psychology at Stanford University and a member of the American Academy of Arts and Sciences. Her scholarly book Self-Theories: Their Role in Motivation, Personality and Development was named Book of the Year by the World Education Fellowship. Her work has been featured in such publications as the New Yorker, Time, New York Times, Washington Post and Boston Globe.
Recommended Reading