Making Ideas Happen Summary Author says Ideas don't happen because they are great—or by accident. The misconception that great ideas inevitably lead to success has prevailed for too long. Whether you have the perfect solution for an everyday problem or a bold new concept for a creative masterpiece, you must transform vision into reality. Far from being some stroke of creative genius, this capacity to make ideas happen can be developed by anyone. You just need to modify your organizational habits, engage a broader community, and develop your leadership capability.
MAKING IDEAS HAPPEN : OVERCOMING THE OBSTACLE BETWEEN VISION & REALITY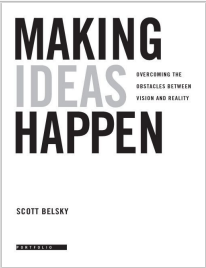 Book : Making Ideas Happen By Scott Belsky
Summary of Making Ideas Happen By Scott Belsky
Creative people are known for winging it: improvising and acting on intuition is, in some way, the haloed essence of what we do and who we are. However, when we closely analyze how the most successful and productive creatives, entrepreneurs, and businesspeople truly make ideas happen, it turns out that "having the idea" is just a small part of the process, perhaps only 1 percent of the journey.
The capacity to make ideas happen is defined by the confluence of the three core components outlined in the equation shown here. Reaching your greatest potential requires mastering the intricate balance of all three forces at play— whether you are executing an idea on your own or working with a team.
Organization and Execution : It is undeniable that your approach to productivity largely determines your creative output. The way you organize projects, prioritize, and manage your energy is arguably more important than the quality of the ideas you wish to pursue.
Leveraging communal forces : The Author have found that, across the board, extremely productive and accomplished people and teams capitalize on the power of community to push their ideas forward. The utilization of communal forces yields invaluable feedback and idea refinement, builds and nourishes beneficial relationships, and establishes a connective tissue that provides resources, support, and inspiration.
Leadership in creative pursuits : History is made by passionate, creative people and organizations with the rare ability to lead others—and themselves. Leadership capability is what makes the pursuit of an idea sustainable, scalable, and ultimately successful. Unfortunately, there is a huge void of leadership capability in the creative world, as evidenced by the high attrition and frequent management debacles across the creative industries. When employees quit a creative team, it is most often a result of an interpersonal conflict or not feeling engaged by the subject matter; it is rarely about money. To grow and sustain creative pursuits, you must be able to keep others engaged with your ideas.
The Importance of Action Steps
Action Steps are the most important components of projects—the oxygen for keeping projects alive. No Action Steps, no action, no results. The actual outcome of any idea is dependent on the Action Steps that are captured and then completed by you or delegated to someone else. Action Steps are to be revered and treated as sacred in any project.
Action Steps are specific things you must do to move an idea forward. The more clear and concrete an Action Step is, the less friction you will encounter trying to do it. If an Action Step is vague or complicated, you will probably skip over it to others on your list that are more straightforward.
Action Steps arise from every idea exchange. Even the smallest of Action Steps, when captured, will make a big difference because they create momentum. A missed Action Step can cause miscommunications, more meetings, and could be the difference between success and failure in any project.
When it comes to organizing your Action Steps of the day— and how your energy will be allocated create two lists: one for urgent items and another for important ones. Long-term goals and priorities deserve a list of their own and should not compete against the urgent items that can easily consume your day. Once you have two lists, you can preserve different periods of time to focus on each.
Execution
Genius is 1 percent inspiration and 99 percent perspiration

Thomas Edison
THOMAS EDISON'S FAMOUS quote rings especially true in the world of innovation. Execution, of course, is predominantly perspiration. Organizing each project's elements, scheduling time, allocating energy, and then relentlessly completing Action Steps comprises the lion's share of pushing ideas to fruition.
Our ideas become less interesting as we realize the implied responsibilities and sheer amount of work required to execute them.
The easiest and most seductive escape from the project plateau is the most dangerous one: a new idea. New ideas offer a quick return to the high energy and commitment zone, but they also cause us to lose focus. As the new star rises, our execution efforts for the original idea start to fall off. The end result? A plateau filled with the skeletons of abandoned ideas. Although it is part of the creative's essence to constantly generate new ideas, our addiction to new ideas is also what often cuts our journeys short.
About the Author :
SCOTT BELSKY believe that the greatest breakthroughs across all industries are a result of creative people and teams that are especially productive. As such, Scott has committed his professional life to helping organize creative people, teams, and networks.
Scott is the founder and CEO of Behance, a company that develops products and services to organize the creative world. He also leads "The 99%," Behance's think tank and annual conference that conducts and showcases research on organization and execution in the creative world.
Recommended Reading
The Ride of a Lifetime By Robert Iger