The "Good to Great" book Author says good to great companies did not focus principally on what to do to become great; they focused equally on what not to do and what to stop doing. All companies have a culture, some companies have discipline, but few companies have a culture of discipline. When you have disciplined people, you don't need hierarchy.
GOOD TO GREAT BY JIM COLLINS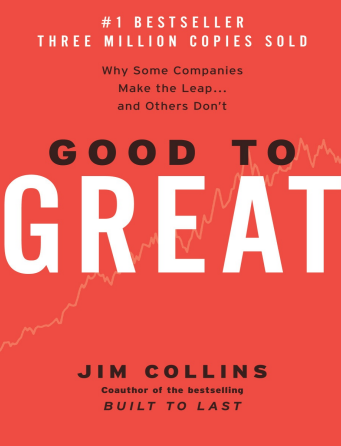 Summary of Good To Great By Jim Collins
Author says the good-to-great companies paid scant attention to managing change, motivating people, or creating alignment. Under the right conditions, the problems of commitment, alignment, motivation, and change largely melt away.
That good is the enemy of great is not just a business problem. It is a human problem. If we have cracked the code on the question of good to great, we should have something of value to any type of organization. Good schools might become great schools. Good newspapers might become great newspapers.
Good-to-great companies think differently about the role of technology. They never use technology as the primary means of igniting a transformation.
First Who Then What
The good-to-great leaders began the transformation by first getting the right people on the bus (and the wrong people off the bus) and then figured out where to drive it.
The good-to-great leaders were rigorous, not ruthless, in people decisions. They did not rely on layoffs and restructuring as a primary strategy for improving performance. The comparison companies used layoffs to a much greater extent.
Good-to-great management teams consist of people who debate vigorously in search of the best answers, yet who unify behind decisions, regardless of parochial interests.
Confront Brutal Facts
Author says when you start with an honest and diligent effort to determine the truth of your situation, the right decisions often become self-evident. It is impossible to make good decisions without infusing the entire process with an honest confrontation of the brutal facts.
Spending time and energy trying to "motivate" people is a waste of effort. The real question is not, "How do we motivate our people?" If you have the right people, they will be self-motivated.
All good-to-great companies began the process of finding a path to greatness by confronting the brutal facts of their current reality.
The Hedgehog Concept
Author says the key is to understand what your organization can be the best in the world at, and equally important what it cannot be the best at— not what it "wants" to be the best at. The Hedgehog Concept is not a goal, strategy, or intention; it is an understanding.
The good-to-great companies are more like hedgehogs—simple, dowdy creatures that know "one big thing" and stick to it. The comparison companies are more like foxes—crafty, cunning creatures that know many things yet lack consistency.
Good-to-great companies set their goals and strategies based on understanding; comparison companies set their goals and strategies based on bravado.
A Culture of Discipline
Author says sustained great results depend upon building a culture full of self disciplined people who take disciplined action, fanatically consistent with the three circles.
A culture of discipline involves a duality. On the one hand, it requires people who adhere to a consistent system; yet, on the other hand, it gives people freedom and responsibility within the framework of that system.
A culture of discipline is not just about action. It is about getting disciplined people who engage in disciplined thought and who then take disciplined action.
Technology Accelerators
The key question about any technology is, Does the technology fit directly with your Hedgehog Concept? If yes, then you need to become a pioneer in the application of that technology. If no, then you can settle for parity or ignore it entirely.
Good-to-great organizations avoid technology fads and bandwagons, yet they become pioneers in the application of carefully selected technologies.
Good-to-great organizations think differently about technology and technological change than mediocre ones.
The Flywheel & The Doom Loop
Author says no matter how dramatic the end result, the good-to-great transformations never happened in one fell swoop. There was no single defining action, no grand program, no one killer innovation, no solitary lucky break, no miracle moment.
The comparison companies frequently tried to create a breakthrough with large, misguided acquisitions. The good-to-great companies, in contrast, principally used large acquisitions after breakthrough, to accelerate momentum in an already fast-spinning flywheel.
ABOUT THE AUTHOR
JIM COLLINS is coauthor of Built to Last, a national bestseller for over five years with a million copies in print. A student of enduring great companies, he serves as a teacher to leaders throughout the corporate and social sectors. Formerly a faculty member at the Stanford University Graduate School of Business, where he received the Distinguished Teaching Award, Jim now works from his management research laboratory in Boulder, Colorado
#jimcollins
#goodtogreat
Recommended Reading