The "Goals book" Author says the greatest discovery in human history is the power of your mind to create the aspects of your life. Everything you see around you in the man-made world began as a thought or an idea in the mind of a single person before it was translated into reality. Everything in your life started as a thought, a wish, a hope or a dream, either in your mind, or in the mind of someone else.
GOALS BY BRIAN TRACY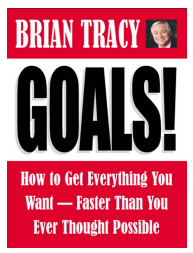 Summary of Goals Book By Brian Tracy
Author says many thousands of successful people have been asked what it is that they think about most of the time. The most common answer given by successful people is that they think about what they want, and how to get it most of the time.
Unsuccessful, unhappy people think and talk about what they don't want most of the time. They talk about their problems and worries, and who is to blame, most of the time. But successful people keep their thoughts and conversation on the topics of their most intensely desired goals.
You have the same goal achieving ability as the homing pigeon, but with one marvelous addition. When you are absolutely clear about your goal, you do not even have to know where it is or how it is to be achieved. By simply deciding exactly what it is you want, you will begin to move unerringly toward your goal.
CLARITY IS EVERYTHING
Author says your inborn potential is extraordinary. You have within you, right now, the ability to achieve almost any goal that you can set for yourself. Your greatest responsibility to yourself is to invest the whatever time is required to become absolutely clear about exactly what it is you want.
The starting point of all goal attainment is desire. You must develop an intense, burning desire for your goals if you really want to achieve them. It is only when your desire becomes intense enough that you will have the energy and the internal drive to overcome all the obstacles that will arise in your path.
TAKE CHARGE OF YOUR LIFE
The greatest enemies of success and happiness are negative emotions, of all kinds. It is negative emotions that hold you down, tire you out and take away all your joy in life. It is negative emotions, from the beginning of time, that have done more harm to individuals and societies than all the plagues of history.
One of your most important goals, if you want to be truly happy and successful, is to free yourself from negative emotions.
To keep your mind positive, refuse to criticize, complain about or condemn other people for anything. Every time you criticize someone else, complain about something you don't like, or condemn someone else for something that they have done or not done, you trigger feelings of negativity and anger within yourself.
CREATE YOUR OWN FUTURE
Author says the most important discovery in all of human history is that, "You become what you think about — most of the time." What is it then that leaders think about, most of the time? And the answer is that leaders think about the future and where they are going, and what they can do to get there.
The biggest single obstacle to setting goals is "self-limiting beliefs." These are areas where you believe yourself to be limited in some way. You may believe yourself to be inadequate or inferior in areas such as intelligence, ability, talent, creativity, personality or something else.
The primary difference between high achievers and low achievers is "action-orientation." Men and women who accomplish tremendous things in life are intensely action oriented. They are moving all the time. They are always busy. If they have an idea, they take action on it immediately.
CLARIFY YOUR VALUES
Your values determine your beliefs, about yourself and the world around you. If you have positive values, such as love, compassion and generosity, you will believe that people in your world are deserving of these values, and you will treat them accordingly.
You can always tell how a person thinks, most of the time, by looking at the conditions of their outer lives. A positive, optimistic, goal and future oriented person — on the inside — will enjoy a happy, successful and prosperous life on the outside, most of the time.
Aristotle said that the ultimate aim or purpose of human life is to achieve your own happiness. You are the very happiest when what you are doing on the outside is congruent with your values on the inside.
Self-trust is the foundation of greatness. Self-trust comes from listening to your intuition, to your "still, small voice" within. Men and women begin to become great when they begin to listen to their inner voices.
#briantracy #goals
Recommended Reading