As A Man Thinketh Summary Author Say a man thinketh in his heart so is he," not only embraces the whole of a man's being, but is so comprehensive as to reach out to every condition and circumstance of his life. A man is literally what he thinks, his character being the complete sum of all his thoughts.
AS A MAN THINKETH BY JAMES ALLEN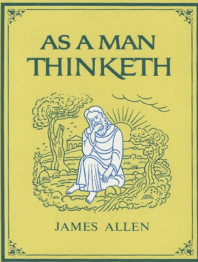 Book : As A Man Thinketh By James Allen
As Man Thinketh Summary
The Author Says as the plant springs from, and could not be without, the seed, so every act of a man springs from the hidden seeds of thought, and could not have appeared without them.
Man is made or unmade by himself; in the armory of thought he forges the weapons by which he destroys himself; he also fashions the tools with which he builds for himself heavenly mansions of joy and strength and peace. By the right choice and true application of thought, man ascends to the Divine Perfection; by the abuse and wrong application of thought, he descends below the level of the beast.
As a being of Power, Intelligence, and Love, and the Lord of his own thoughts, man holds the key to every situation, and contains within himself that transforming and regenerative agency by which he may make himself what he wills.
Effects of Thoughts on Circumstances
The Author says man's mind may be likened to a garden, which may be intelligently cultivated or allowed to run wild; but whether cultivated or neglected, it must, and will, bring forth. If no useful seeds are put into it, then an abundance of useless weed seeds will fall therein.
Just as a gardener cultivates his plot, keeping it free from weeds, and growing the flowers and fruits which he requires, so may a man tend the garden of his mind, weeding out all the wrong, useless, and impure thoughts, and cultivating toward perfection the flowers and fruits of right, useful, and pure thoughts.
Thought and character are one, and as character can only manifest and discover itself through environment and circumstance, the outer conditions of a person's life will always be found to be harmoniously related to his inner state.
Men do not attract that which they want, but that which they are. Their whims, fancies, and ambitions are thwarted at every step, but their inmost thoughts and desires are fed with their own food, be it foul or clean.
Effects of Thought on Health & Body
The Author Says body is the servant of the mind. It obeys the operations of the mind, whether they be deliberately chosen or automatically expressed.
Disease and health, like circumstances, are rooted in thought. Sickly thoughts will express themselves through a sickly body. Thoughts of fear have been known to kill a man as speedily as a bullet, and they are continually killing thousands of people just as surely though less rapidly.
Strong, pure, and happy thoughts build up the body in vigor and grace. The body is a delicate and plastic instrument, which responds readily to the thoughts by which it is impressed, and habits of thought will produce their own effects, good or bad, upon it.
If you would perfect your body, guard your mind. If you would renew your body, beautify your mind. Thoughts of malice, envy, disappointment, despondency, rob the body of its health and grace.
Thought & Purpose
The Author Says until thought is linked with purpose there is no intelligent accomplishment. With the majority the barque of thought is allowed to drift upon the ocean of life.
A man should conceive of a legitimate purpose in his heart, and set out to accomplish it. He should make this purpose the centralizing point of his thoughts. It may take the form of a spiritual ideal, or it may be a worldly object, according to his nature at the time being; but whichever it is, he should steadily focus his thought forces upon the object which he has set before him.
As the physically weak man can make himself strong by careful and patient training, so the man of weak thoughts can make them strong by exercising himself in right thinking.
To put away aimlessness and weakness, and to begin to think with purpose, is to enter the ranks of those strong ones who only recognize failure as one of the pathways to attainment; who make all conditions serve them, and who think strongly.
Vision and Ideals
The dreamers are the saviors of the world. As the visible world is sustained by the invisible, so men, through all their trials and sins and sordid vocations, are nourished by the beautiful visions of their solitary dreamers. Humanity cannot forget its dreamers; it cannot let their ideals fade and die.
Dream lofty dreams, and as you dream, so shall you become. Your Vision is the promise of what you shall one day be; your Ideal is the prophecy of what you shall at last unveil.
The greatest achievement was at first and for a time a dream. The oak sleeps in the acorn; the bird waits in the egg; and in the highest vision of the soul a waking angel stirs. Dreams are the seedlings of realities.
Your circumstances may be uncongenial, but they shall not long remain so if you but perceive an Ideal and strive to reach it. You cannot travel within and stand still without.
Recommended Reading
How Successful People Think By John Maxwell